This past weekend I got to escape my life for a bit. I went away with my sister-in-law, Julie, to Bloggy Bootcamp in Philadelphia. I had gone with her previously to Baltimore in March and we had booked ourselves for Philly almost as soon as we returned home because we had such a great time.
However, after the past few weeks, as the date approached, I had been apprehensive about attending. I wasn't sure if I would be able to attend and hold myself together and the last thing I wanted to do was ruin a weekend away for a conference full of some of my favorite ladies in the world.
After talking to Julie and then hearing from some other fabulous bloggers, I decided to attend and just hope for the best…. that it would end up being a good distraction for me, some much needed rest and a way to surround myself by friends and laughter.
It was.
I am sure I should do some sort of recap of the weekend, but instead I will just direct you to this list of other bloggers that attended. They summed the event up perfectly. For me, the weekend was about getting to talk to Julie, getting a chance to cry when I needed it, laugh when I really really needed it and finding out what I am made of (and what I am not ready for yet). It wasn't perfect. I definitely had my moments of weakness and sadness and needed to take time away to just be alone, but there were also SO many moments of compassion and friendship.
I needed it.
Badly.
And that is what bootcamp was for me.
My Sistahood 🙂
And, after I left there, I went home to NJ for a night and got to spend time with some of my sisters and brother. We talked late into the night and I knew as I was heading to bed that no matter what, I will be ok. That I will always have my family and they will always have my back, and my heart.
I returned home feeling refreshed, or as refreshed as I can feel in this situation, and I was happy to see my kids. They told me about their weekend with Russ and he and I sat down that night and talked about The Love Dare, and counseling, and our plans for our future. or, at least our hopes.
I went to bed and a few hours later Emma woke up and wanted to come into my bed. She was scared. She laid down in my bed and wanted me to hold her hand while she fell asleep and as I laid there holding her hand, she asked me, " Mommy, do you love daddy?"
Without hesitation, I told her the truth, " Yes, Emma, I love daddy."
"And he loves you, mommy?"
"Yes, Emma. Daddy loves me."
I thought that was the end of our conversation because she closed her eyes and seemed like she was finally giving in to sleep, but then she opened her eyes and asked, " Daddy just hurt your feelings?"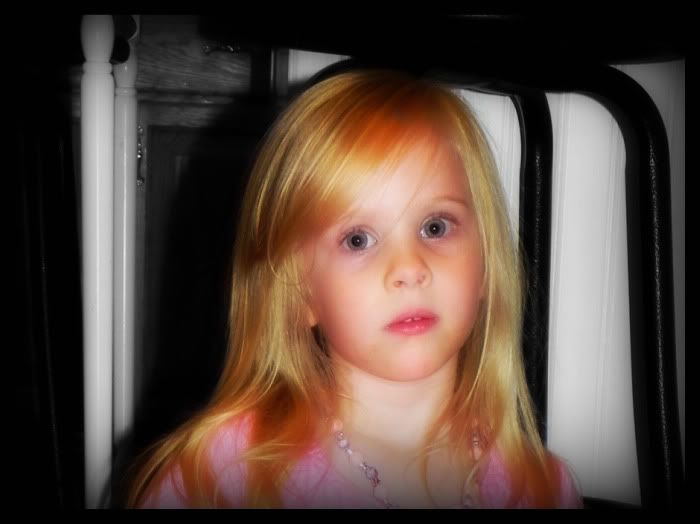 What could I say to that but the truth?
I know she has seen us argue recently and I know she has seen me cry, but I just hadn't realized how much she had noticed.
It's sad.
And jolted me back into reality.
Every now and again, I allow myself to "forget" where I really am right now and then these moments happen and it can't be more clear how much my life, our lives, have been changed forever.
Part of Wordful Wednesday