I would love to be able to say that what gets me up in the morning is knowing that I need to pick myself up, dust myself off, and just get on with life (albeit my new and "improved" life).
However, that just isn't the case.
If not for my children I am certain I would just crawl under my covers, turn the lights off, draw the shades, and allow the days to blend into one another.
(Ok, and truth be told, the days are blending into one another.)
But
I am getting out of bed each morning and forcing myself to face our life because of my kids.
For my kids.
This photo was taken in Washington, DC just 20 minutes before we found out.
This was our happy life before.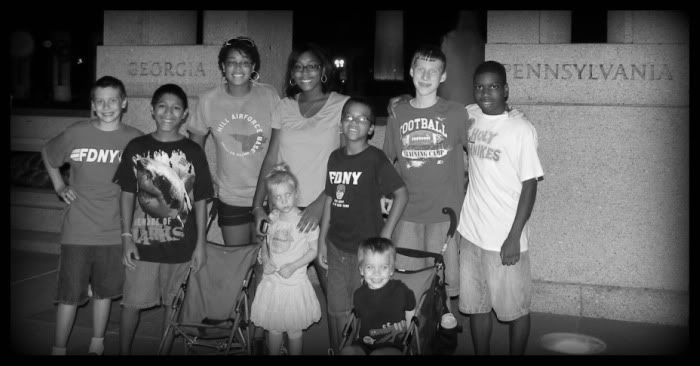 Our life "during" isn't so happy and I am sure somewhere in my head I will always refer to our life in the terms of "before", "during" and hopefully, one day "after".
The "during part" is definitely the worst.
Our before life was happy and blissful and the life I thought I always wanted.
This during life, during the recovery, is awful and sad and a life I never imagined we would live.
We're all sad.
All of us.
And there isn't much harder than being unable to comfort your children because you can't comfort yourself,
except maybe going on Facebook and seeing that your daughter spent the day in school crying but couldn't bring herself to tell me because she is worried she'll hurt me worse than I already am.
I've sat the kids down a few times and told them to please, please, please come to me when they are hurting, to not be afraid of upsetting me,
That no matter what, I want to know how they are feeling.
I want them to understand that when I comfort them it helps my heart too.
I need them just as much as they need me.
Honestly, I think I need them more right now.
They motivate me to live.
They motivate me to laugh.
and of course, they motivate me to love, and love deeply.
I don't want the kids to ever feel pressured or obligated to life my spirits, I just want them to know how very much they do it just by being in my life.
They are my loves, my life, my breath.