Over the past month as I have been struggling to get through our marriage "issues", we have also been struggling with some very serious issues with Will.
He started school in September and seemed to be doing well for a while, making lots of progress.
His speech was truly emerging. His personality was blossoming like never before (as if he wasn't already a ray of sunshine 24/7 anyway). He was finally playing with toys appropriately.
It was wonderful.

And it was truly the happiness I needed when everything else seemed so down.
So low.
Sadly, something happened though over the past month and Will has been having some major issues that couldn't be ignored.
He started to throw himself on the floor when he became frustrated and was banging his head. Hard.
Sadly, because he's only about 19 months old developmentally, he didn't seem to understand the cause & effect of what he was doing and he would bang his head over and over, often crying ," What happened?" as he hurt himself.
It was heart-breaking to watch.
And we couldn't stop him.


We were really worried that he was going to seriously hurt himself, so we made an appointment for him with our pediatrician, hoping he could give us some suggestions or at least point us in a new direction for Will's care.
(at the very least, we needed suggestions for where to purchase a decent and affordable helmet for Will that he'd be willing to wear and not be completely uncomfortable)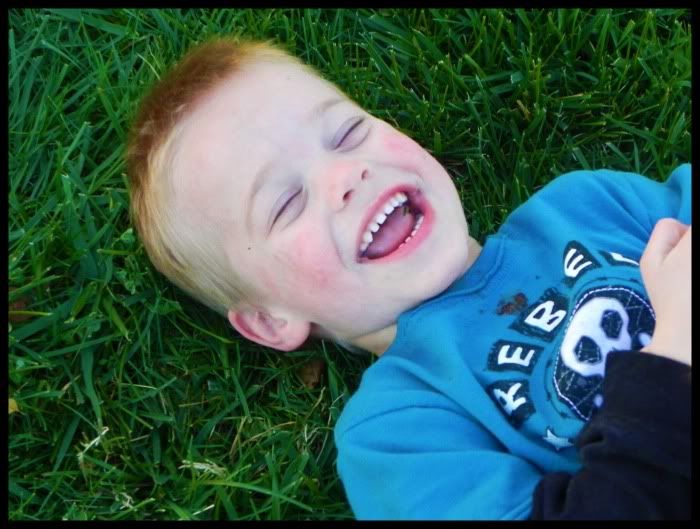 Our pediatrician put Will on Risperdal.
I will be honest, I was NOT thrilled with the idea of medicating Will. I'm not a big fan of putting any of my kids on medication that might alter their moods or personalities (although David is on medication for ADHD that helps IMMENSELY)
We were incredibly skeptical about putting Will on Risperdal, especially since Stephanie was on it when she was much younger and suffered from HORRIBLE side-effects.
But, our choices for Will were limited and we knew we needed to at least give it a try for his sake.


He's been on the medication for 3 days now and tomorrow we will be doubling his dose.
So far, his head banging is diminished and he doesn't seem to be suffering from any of the side-effects that plagued Stephanie so many years ago.
He's alert and pleasant and seems to still be his happy, cheerful, chatty self.
We're praying that he continues to show positive improvements and retains everything about his beautiful personality that we love so dearly.