Yesterday was Fat Tuesday and as is our family's tradition, we celebrated by having a Mardi Gras party. My parents came over with my youngest siblings and we had spicy jambalaya (Emeril's delicious recipe!) and pancakes for the kids that don't like to eat spicy foods (perish the thought!)
For dessert…. fastnaughts, carrot cake, chocolate chocolate chip cake, and ice cream cake for my sister Tina's birthday.
It seems excessive.
It was!
That's what Fat Tuesday is all about 🙂
That, and celebrating….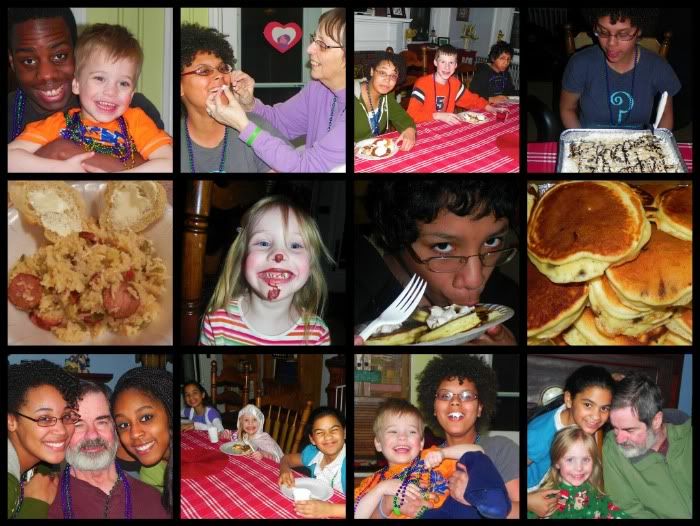 It was a wonderful night, filled with laughs and lots of love 🙂

What greater thing is there for human souls than to feel that they are joined for life – to be with each other in silent unspeakable memories. ~George Eliot
And now the Lenten season is upon us.
It's my favorite time of year because for me it means reflection, being humble and freeing my soul from the things that weigh me down.
It's a time when I give something up, not for any reason other than my Lord gave His life for me and I love Him.
It's not expected of me through my church, but I expect it of myself.
I don't expect it of my children, but they follow my example.
Our guidance is our God, deeper and focused, as I wish it was the whole year through, but I readily accept that sometimes we just are too human, too flawed, and that's ok.
Our God loves us anyway.
"And when you fast, do not look gloomy like the hypocrites, for they disfigure their faces that their fasting may be seen by others. Truly, I say to you, they have received their reward. But when you fast, anoint your head and wash your face, that your fasting may not be seen by others but by your Father who is in secret. And your Father who sees in secret will reward you." ~ Matthew 6:16-18
Playing along with 7 Clown Circus and Parenting by Dummies for Wordful Wednesday
and Grace Alone for Thankful Thursday.