Typically, I think the complaint mommies might make as their kids get older is that they become independent and suddenly don't need us as much as they did before.
It's sometimes painful to admit to yourself that your babies are growing up and even more painful when the changes seem to happen with your youngest child and you suddenly realize there will be no more babies in your home until your children begin to fill it with your grandchildren.
For me, I have struggled with this fact because for YEARS I have felt like Will never really needed me. He's my baby, the baby of the family, and yet, he's been so independent from the beginning.
I don't mean to say he doesn't need me to help him with things like tying his shoes, helping him cross the street, bath time, etc… Of course he does.
What I mean is that for years, he hasn't needed me to comfort him when he was sad, or scared, or sick and that has been painful. For me.
Instead of needing my arms to comfort him, he has always comforted himself with self-stimulating behaviors.
As Emma has been transforming from a toddler to a "kid", my heart has been hurting.
I've been watching her need me less and less and it's been hard to admit to myself that I have hit a major milestone.
I have been in denial.
And, now, instead, God has given me (and Will) a gift.
My little boy has decided that he does need me.
All of a sudden Will wants me to hold him and give him kisses.
He wants to fall asleep in my lap instead of in his crib…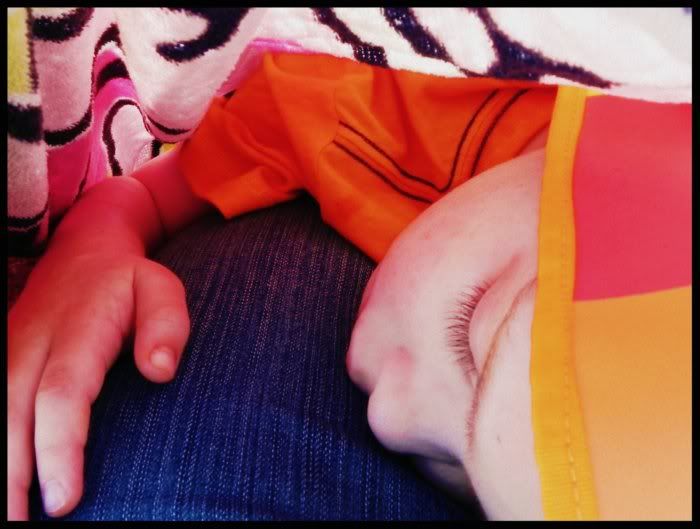 Or, he'll take my hand, lead me to the couch, pat the chair for me to sit, and he wants to sit beside me with his head on my shoulder.
And he smiles at me and looks at me with such deep love,
that I just know how much he feels for me.
Without question.
I know my son loves me to the moon and back.
And, somehow, waiting all this time makes it that much more valuable.
No.
Priceless.

A mother understands what a child does not say.
– Jewish proverb
Playing along with 7 Clown Circus and Parenting by Dummies for Wordful Wednesday, Woman Taking a Stand for Thankful Thursday, Diaper Diaries for Things I Love and