I thought I would re-share a portion of our family's 2010 cross country vacation:
our visit to the Flight 93 National Memorial in Pennsylvania:
As our vacation was coming to an end, we finally started to see the green rolling hills of the Blue Ridge Mountains (complete with me singing Take Me Home, Country Roads) , & we knew we were finally getting close to Pennsylvania.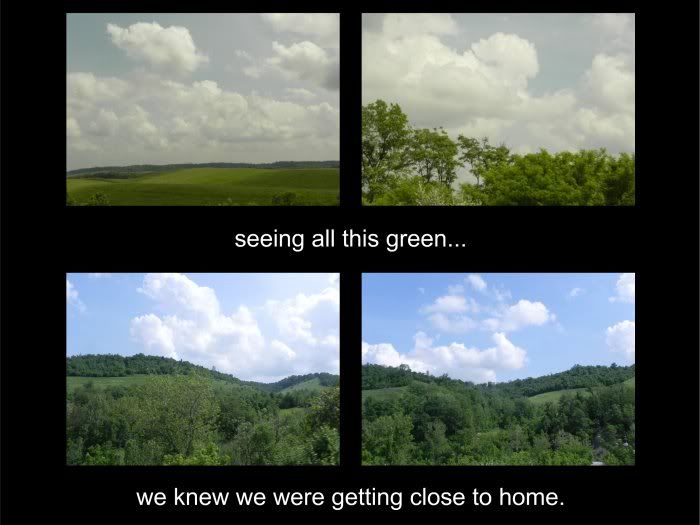 Then, finally, after 22 days on the road, we crossed the border into out home state.

As I looked at the maps and discovered how many hours we had left for our drive, there it was…
Shanksville, Pennsylvania
Without hesitation, I immediately tried to put Flight 93 Memorial into our GPS and we were surprised to find it did not come up.
The memorial was also not mentioned along the major highway we were driving on, nor was it on our map, so we allowed God to guide me as I gave Russ directions to the town of Shanksville, where we hoped, once there, we would see signs to lead us the rest of the way.
Once we got close, we started to see signs everywhere and I decided to try my cell phone's GPS and thankfully it was able to lead us the rest of the way.

We had no idea what to expect and although it was nothing formal (the construction for the new memorial was clearly underway) it was everything where heart and soul is concerned.

The amount of love and respect that was put into the Flight 93 Memorial at this point was amazing.
Much like we felt at the Oklahoma City Memorial, we walked silently as we took everything in.

It was amazing to see just how many plaques, stones, monuments, flags, letters, photos, pins, hats, etc have been left to pay the deepest respect for people who just woke up one day as ordinary citizens but died on September 11th as heroes.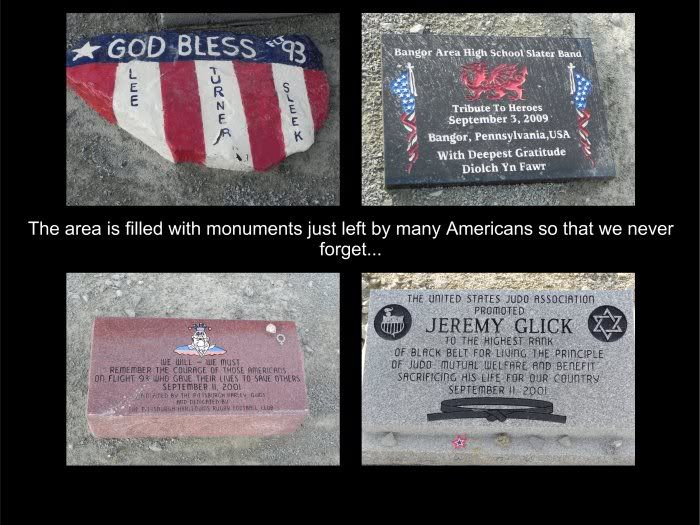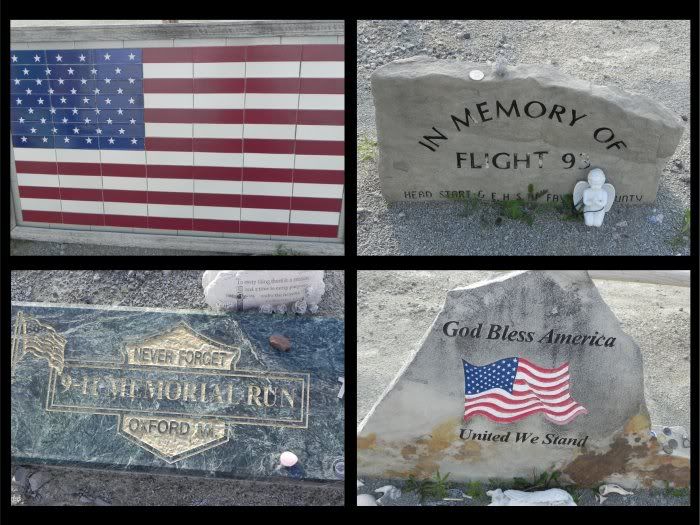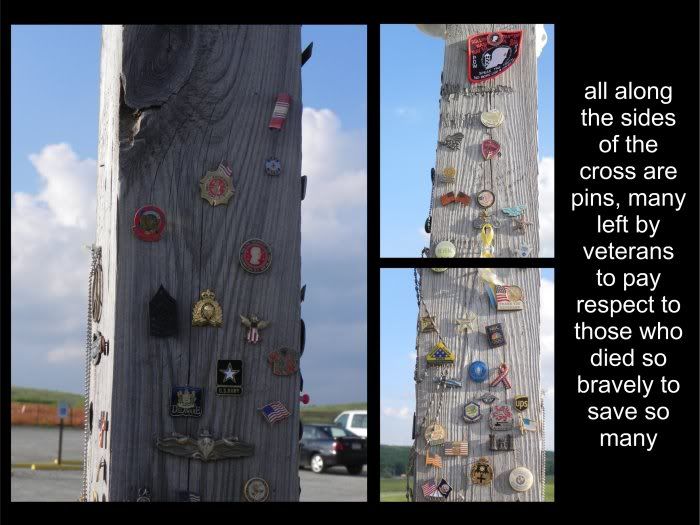 Standing there, I was so proud of my children for understanding the magnitude of what had happened there and amazed at their empathy.


As we stood viewing the fence, it became very apparent how these men and women are viewed and respected by members of our military, police & fire departments. There we so many hats, medals, patches & badges left by veterans of so many different wars and by police and fire fighters from all over the country. And, maybe it's because my husband is a police officer, but I couldn't have been more proud of the men and women he works with than I felt at that moment.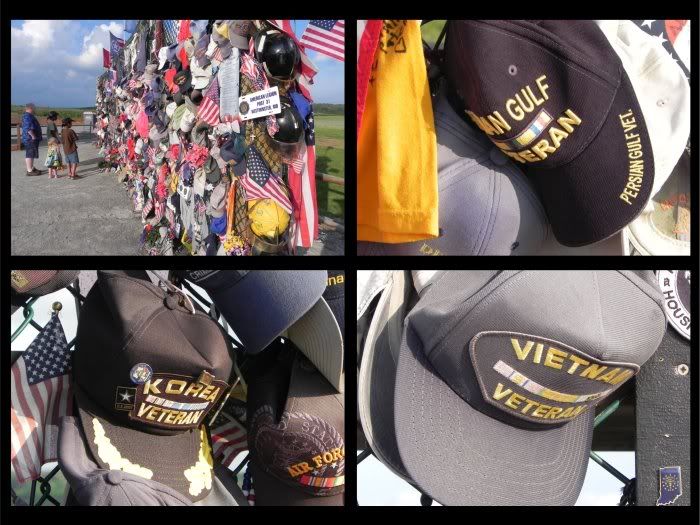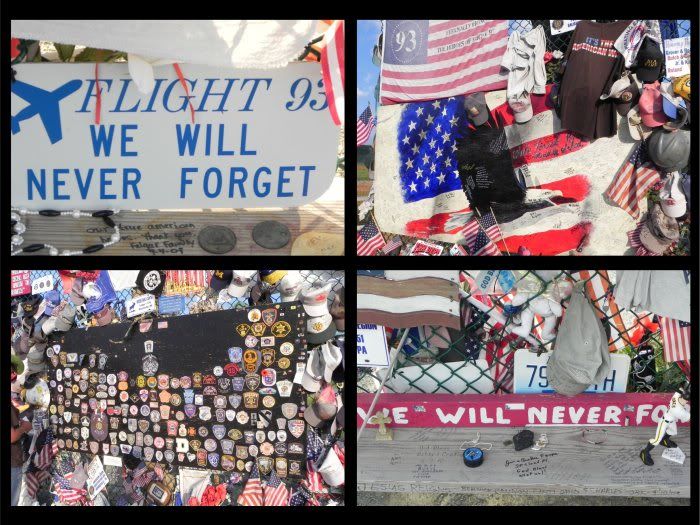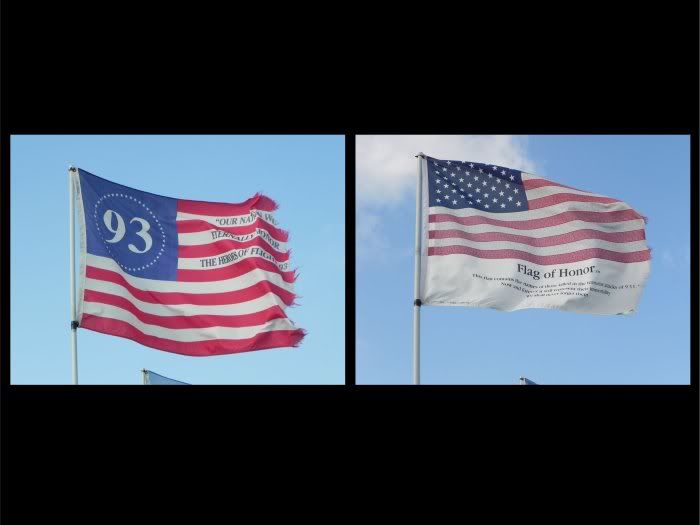 As we prepared to leave, we turned one last time towards the crash site and prayed together for everyone who lost a loved one on September 11th and for all that our country lost that day as well.
Much like the clock reflected at the Oklahoma City Memorial how the world changed on that fateful day, I think September 11th punctuated that moment.

As we drove away from the memorial we drove in silence and just enjoyed to beautiful county-side around us and the peacefulness that had come over us.

It's amazing to look back and reflect on everything that happened 10 years ago.
It feels like a life time, but it feels like yesterday too.
The memories are as vivid today as they were that beautiful morning and I know I will never forget,
Ever.