Very recently Russ and I decided that we would take our diet gluten-free.
It's not a new or radical idea for us to have gluten-free in our home, as David has been on a GF diet since he was 3 years old and was diagnosed with Celiacs Disease.
Both Russ and I have done the Adkin's diet in the past, so giving up carbs , particularly "bad carbs" isn't a big deal, but completely changing our diet to exclude flour has been a challenge.
David has never been into cakes and pies and has always happily just appeased his sugar needs with candy or ice cream.
Russ and I, however, have not been so lucky and have been craving sweets and when I heard that today was National Pie Day, I wanted to cry.
So, I first turned to my friends for recipe ideas and the just started an online search and found and then made these two delicious recipes.
The first pie I made was Libby's Crustless Pumpkin Pie and it was exactly as they described… a perfect pumpkin pie without the crust.
YUM!
The second pie recipe comes from a site called Baking Bites.
I found it by simply typing in "crustless pie recipe" in my search engine and although the recipe wasn't gluten-free I thought I could possibly adapt it and figured I would give it a try.
Crustless Gluten-Free Blackberry Custard Pie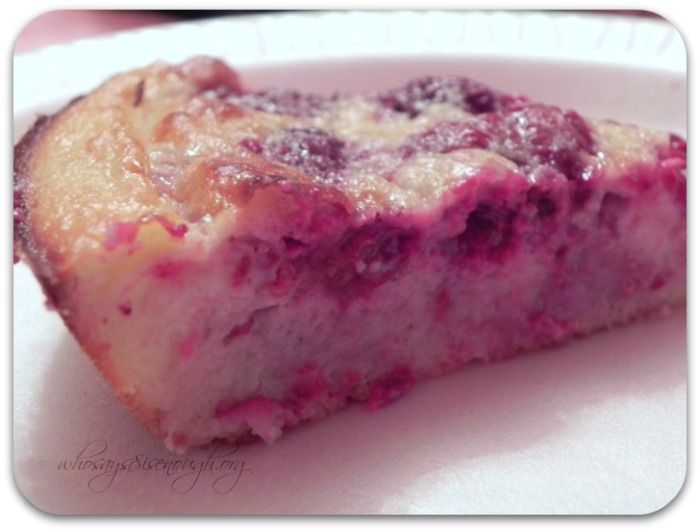 Ingredients
1/2 cup Gluten-Free Bisquick
1/4 tsp baking powder
1/4 tsp salt
1/3 cup sugar
2 large eggs
1/2 cup milk
1/2 cup vanilla Greek yogurt
1 tsp vanilla extract
1/4 tsp almond extract
12-oz fresh blackberries
From Baking Bites, but adapted:
Preheat oven to 350F. Lightly grease a 9-inch pie plate.
In a medium bowl, whisk together Gluten-Free Bisquick, baking powder, salt and sugar.
In a large bowl, whisk together eggs, milk, yogurt, vanilla and almond extract until very smooth. Add in GF Bisquick mixture and whisk to combine.
Add blackberries into filling mixture and gently stir to coat. Pour into prepared pie plate, shifting blackberries around with a spoon or spatula to evenly distribute them in the pie.
Bake for 45 minutes, until custard is set and a knife inserted into the center of the pie comes out clean.
Allow to cool before slicing and serving.
Serves 8.
And, I'll admit, I took it out too soon because I was afraid it would burn and the center didn't set up like it should.


However, the pie was still delicious and everywhere but the center set perfectly. (so, make sure you just keep adjusting the cook time until the entire pie sets.)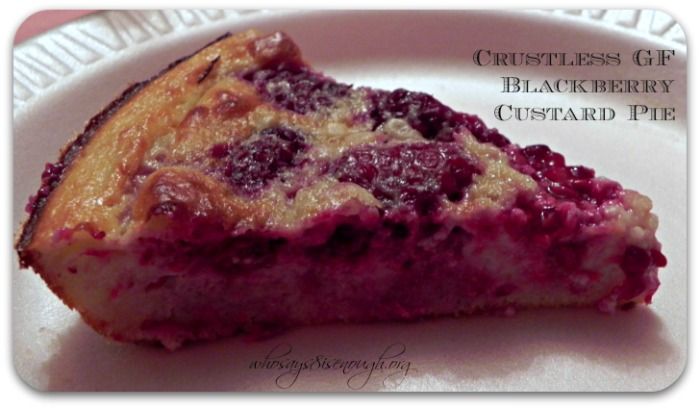 The original recipe called for raspberries and had I been able to find them (it's winter, you know?) I'm sure it would've been equally delicious.
I'm looking forward to making this many times and trying out different variations, perhaps strawberries and then smothering the pie in chocolate ganache.
Maybe for Valentine's Day….
Oh my!